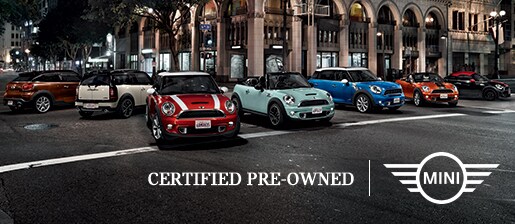 MINI Certified Pre-Owned Vehicle Special Finance Rates.
MINI Certified Pre-Owned vehicles offer you top quality and competitive pricing, making it even easier to get behind the wheel of a MINI.
Each vehicle is hand-selected from the best available, and put through a rigorous 360-degree survey and reconditioning process by factory-trained technicians using Original MINI Parts. Once a MINI Pre-Owned Vehicle receives its official certification, we add an extensive MINI protection plan, for complete peace of mind on the road ahead.
MINI Models
2008

-2019



Annual Percentage Rate (APR)
24 months
36 months
48 months
60 months
72 months
84 months

2016-2019 Models

5.9%
5.9%
5.9%
5.9%
5.9%
5.9%

2017 3 Door S & JCW Hatch

VIN-SPECIFIC

0.5%
0.5%
0.5%
0.5%
0.5%
5.9%

VIN-SPECIFIC

0.5%
0.5%
0.5%
0.5%
0.5%
5.9%

VIN-SPECIFIC

0.5%
0.5%
0.5%
0.5%
0.5%
5.9%

VIN-SPECIFIC

1.9%
1.9%
1.9%
1.9%
1.9%
5.9%

2015 Models

All Models
(excl.5 Door & Countryman)
1.9%
1.9%
2.9%
2.9%
3.9%
3.9%

2014 Models

All Models

0.9%
0.9%
1.9%
1.9%
2.9%
2.9%

2013 Models

All Models
0.9%
0.9%
1.9%
1.9%
2.9%
2.9%
2008 - 2012 Models
All Models
5.9%
5.9%
5.9%
5.9%
5.9%
-
Maximum Terms By Model Year
| | |
| --- | --- |
| Model Year | Maximum Term |
| 2013 - 2019 | 84 Months |
| 2012 | 72 Months |
| 2011 | 60 Months |
| 2010 | 48 Months |
| 2009 | 36 Months |
| 2008 | 24 Months |


*Retailers may sell for less. Offer is subject to availability and may be cancelled or changed without notice.**Offers are VIN specific and may not apply to all models. Certain limitations apply. Offers expire February 28th, 2018. Certain conditions apply. © 2018 MINI Canada. "MINI", the MINI logo, MINI model designations and all other MINI related marks, images and symbols are the exclusive properties and/or trademarks of BMW AG, used under licence. Please see MINI Nanaimo for full details. Offers are subject to availability and may be cancelled or changed without notice. Certain conditions apply. DL10134 #31303